A Private Equity Firm Wants to Build a Train to Las Vegas
Article by Romy Varghese and Nathan Crooks posted on September 24, 2019, 2:00 AM PDT
Source: Bloomberg.com
Virgin Trains USA is planning to sell bonds for a line that starts 90 miles from downtown L.A.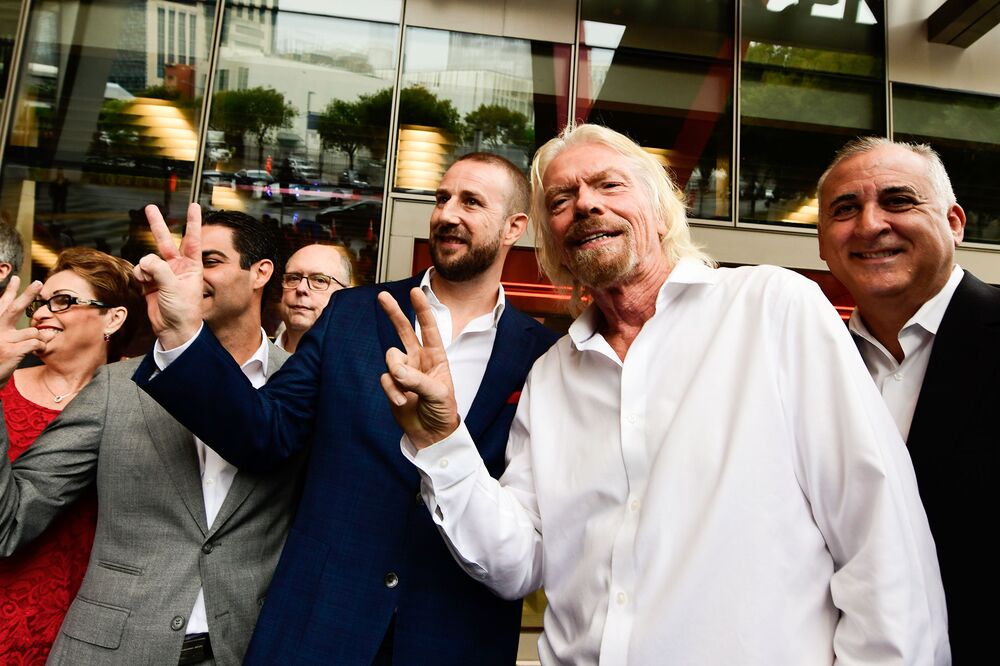 Virgin Trains USA President Patrick Goddard and Richard Branson. SOURCE: BRIGHTLINE
Virgin Trains USA has a big idea: Make train travel a hip, convenient alternative to driving in some of the most autocentric parts of the country. Backed by Fortress Investment Group private equity funds, the company last year launched the country's first new privately financed intercity passenger rail in a century along Florida's east coast. Its Miami hub is a gleaming, citrus-perfumed station where blue-blazered employees stock the VIP lounge with complimentary charcuterie.
Now the company has Las Vegas in its sights. It says it can bring revelers there from the Los Angeles area by electric trains that can reach 150 mph. Wowed by the prospect of jobs and traffic relief, a California state agency in September approved the first step in Virgin Trains' plans to sell as much as $4.2 billion in tax-exempt debt for the $4.8 billion project. The company says construction of the 170-mile line, mainly along the median of Interstate 15, will take three years, and it'll start in 2023. That would make speedy rail a reality in California, where a voter-approved bullet train between San Francisco and Los Angeles has been beset with delays and cost overruns over the past decade.
The hitch: The California terminus isn't in L.A. itself, but in the outlying community of Apple Valley, 90 miles northeast of downtown. Virgin Trains will have to persuade Angelenos to give up their cars and pay about $60 each way for a 90-minute train trip—after they've already driven as far as the Mojave Desert.

In pitches to California and Nevada officials, the company talks about eventually connecting to Los Angeles, but it doesn't offer a timetable for that. And when executives tout their Florida achievement, they don't mention that they're behind ridership projections for that stretch. It was only in June that the company broke ground for an extension of the line—of about 170 miles—running northwest to tourist-rich Orlando, which it expects to open in 2022.
There's also no word on when additional stations may open in Tampa and at Walt Disney World. Tapping Disney tourists was an ultimate goal pitched to buyers of the high-yield municipal debt the company sold in April and June for the Orlando expansion. The sales occurred several months after the company put its initial public offering on hold. Since then, yields on the unrated bonds suggest the market is skeptical that the Florida train will work out as well as hoped.
"If I get involved in a project like that, having seen what went on in Florida, I would have to be somewhat suspect of the perfect ending and perfect outcome," says Jim Colby, senior municipal strategist at Van Eck Associates Corp., which holds some of the Florida securities. Virgin Trains executives say their model of serving areas that are "too long to drive, too short to fly" works and can be replicated throughout the country. "Faster and cheaper in transportation always win," says spokesman Ben Porritt. The company was known as Brightline before a marketing deal last year with Richard Branson's Virgin Group, which also bought a small piece of it. Softbank Group Corp. owns Fortress.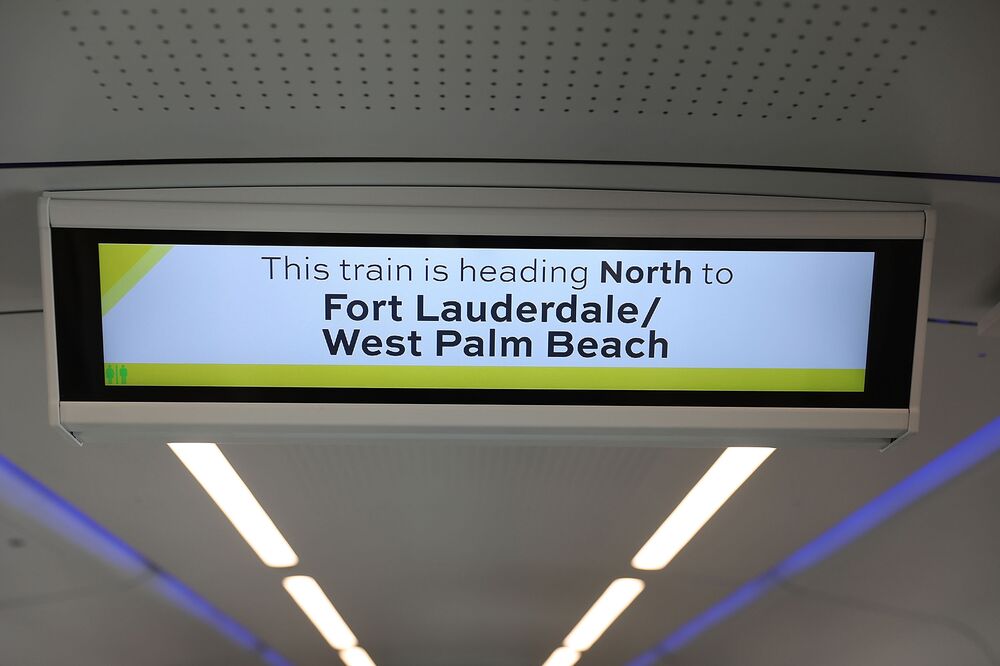 PHOTOGRAPHER: JOE RAEDLE/GETTY IMAGES
The Vegas rail idea isn't new. A company called DesertXpress Enterprises LLC had been trying since 2005 to get the project running. Virgin Trains bought it in March; over the past few months, it has hosted four delegations of California officials in Florida to see its system firsthand.
The prospective station in California is in a part of San Bernardino County called Victor Valley, a community of four cities including Apple Valley at the edge of the Mojave that was hit hard by the housing bust. Porritt calls it a "strategic location" for drivers from Los Angeles deciding whether to press on to Vegas. It would be "without a doubt the largest project the High Desert has seen and may ever see," says Art Bishop, a councilman in Apple Valley. Once they make their way to the city station, passengers could drop off their bags. They'd see them again in their hotel rooms after a trip including food and beverage services and free Wi-Fi. "You would be able to essentially start your evening in Las Vegas from the second you jump onto our train," Porritt says.
An economic analysis commissioned by Virgin Trains predicts the project will employ thousands of construction workers and more than 500 people after completion, as well as remove carbon from the air by taking 4.5 million cars off the freeway. "If they can get from Los Angeles to Vegas, no one is going to be driving or flying anymore," says California Treasurer Fiona Ma, who toured the Florida rail line. But the train ticket has to compete with direct ways to get to Vegas. Over a mid-October weekend, people can fly there from Los Angeles International Airport for about $200 or rent a midsize car for about $70 a day, according to an online search.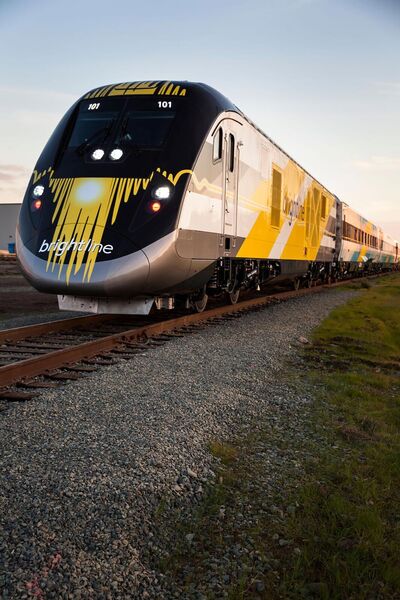 Even John Miller, co-head of fixed income at Nuveen LLC, which holds a lot of the bonds sold in April for the Florida rail, isn't yet sold on the California project. The location outside of Los Angeles is a "concern," and he wants to see cost details. The project's estimated price tag is 40% lower than projected in 2015, which Virgin Trains chalks up to design differences.
The Florida line began running in January 2018. Passengers from Miami sitting in the most expensive cars (around $40) can order complimentary bloody marys until the train pulls into the West Palm Beach station an hour and 15 minutes later. The taxpayer-funded station at Orlando International Airport is slated for 2022, and new stations in Aventura, Boca Raton, and the Port of Miami will open in 2020.
That would boost ridership. Over the first eight months of this year, 639,373 passengers rode the railroad, making it unlikely the year would end with more than 2 million of them, which was the expectation in a study distributed to investors. The company counters such concerns with more numbers: It needs just 2% of the 390 million total trips taken annually between southeast Florida and Orlando to succeed.
It's "incredibly optimistic" for the company to seek additional financing with its key Orlando expansion under way, says Nicholos Venditti, a portfolio manager at Thornburg Investment Management. But it's also smart, he says, given today's low interest rates and a bullish environment for bonds. "They're in a world where investors broadly are yield-starved," Venditti says. "They will be able to get it done at kind of unprecedented levels for a project of this size and with this kind of risk." —With Jonathan Levin