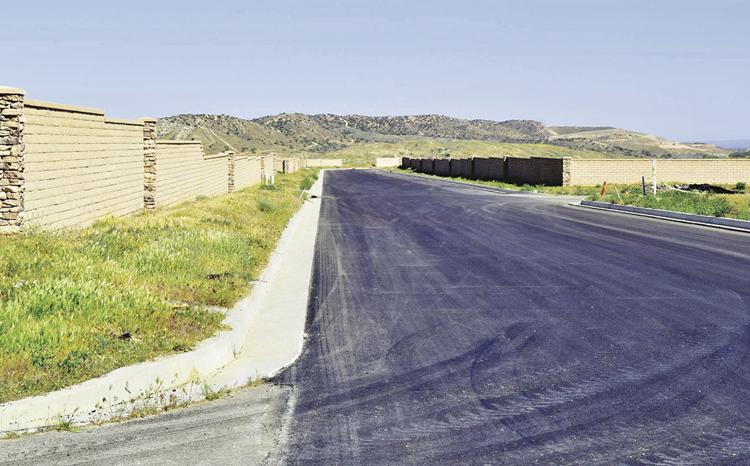 This road connecting Avenue S to Elizabeth Lake Road to provide fire access to the Anaverde community and installed by Palmdale in 2015 will be completed by the Ritter Ranch development as one of the first steps in the renewed housing project. Source: Valley Press files
PALMDALE — Two major housing developments that have been stalled for years are preparing to move forward, although with plans that have changed since they were first proposed decades ago.
Representatives of Ritter Ranch and Anaverde Nuevo, formerly known as City Ranch, presented their proposed plans to the City Council Tuesday night.
Both projects are at various stages of the planning process, working with city staff to successfully complete the necessary steps to be ready for construction to begin.
The Anaverde Nuevo project will be the buildout of the Anaverde master-planned community, extending to the west along Avenue S. It will increase the existing 1,627-home development by an additional 2,000 homes. This is 1,255 fewer units than included in the original plan.
"The good here news is that we have a new project," said Rich Knowland, representing Anaverde LLC. "We're looking at finishing a great community."
The new homes will include 1,205 in an "active adult community" intended for residents age 55 and older. These will generally be single-story, single-family detached homes located on the north side of Avenue S. This area will also feature a clubhouse and recreation center.
South of Avenue S are planned another 665 "family living" homes, in an area that has already been graded for construction.
Amenities planned in the new project are a large park with athletic fields, trails that will connect to an existing trail network and those planned in the adjacent Ritter Ranch and large amounts of natural open space. A new community pool for all of Anaverde, new and old, "will be the gathering spot," Knowland said.
A small commercial center will have a small grocery store, and a recreational vehicle storage area will be managed by the Homeowners Association.
"The whole community we're hoping will be very pedestrian-friendly,"
A previous plan for a golf course has been discarded, as have plans for a road over the California Aqueduct, which was deemed economically infeasible and not necessary with the lower density of housing.
Water-saving landscaping with native plants and natural areas will be featured, and green building features such as solar is being considered. The development would consider using recycled water, Knowland said.
Water service will be provided through Los Angeles County Waterworks District 40, with State Water Project water purchased through the Antelope Valley-East Kern Water Agency.
To the west of Anaverde and south of Elizabeth Lake Road is the 10,500-acre Ritter Ranch project, originally planned for 7,200 homes.
"Times have changed," said Nick Pappas, vice president of real estate for SunCal, the project's owner.
The revised plan calls for a mixed-use community, with a range of housing densities, types and sizes, together with commercial development all on a smaller footprint than previously proposed, "using those hills as a fabulous backdrop,"
When fully built out, the entire project should have about 6,500 housing units, he said.
It will also feature a network of trails into the hills and extensive open space.
Among the first steps is completing the access road extending between Avenue S and Elizabeth Lake Road, a road built by the city to provide fire access to the Anaverde development when Ritter Ranch stalled. The completion will make the entire stretch four lanes wide, complete with street lights and other city street requirements.
"We're actively working on that right now," Pappas said.
The Ritter Ranch project is laid out in phases, with the first in the area farthest north, where grading was done previously. This will include a small commercial center with a gas station at the development entrance on Elizabeth Lake Road, an elementary school, parks and a recreation area with a pool. This phase is planned for about 1,100 to 1,200 housing units, Pappas said.
The housing includes small lot detached homes, which have very little in the way of yards and driveways and are clustered closer together.
"It appeals to an entirely different family unit," Pappas said, being more affordable with little to no yard maintenance. Community recreation facilities take the place of yards.
The firm hopes to have construction underway in this first phase by next summer, Pappas said.
The second phase, located to the south, will have a 120,000-square-foot commercial center with a supermarket, a drug store and other retail and office space, as well as a village green and amphitheater. A middle school site is included, along with several parks.
Higher-density housing will be placed around the commercial center, including apartments, condos, townhouses and small lot detached homes,
The third phase, located farther west, will include rural lots and have a small commercial center off Elizabeth Lake Road.
The two projects share some boundaries, and the developers are working together on issues common to both to ensure they are consistent, Knowland said.
"The devil is in the details," Mayor Steve Hofbauer said, but the projects as presented appear to be improvements over what has been seen before.
"This really addresses the market for millennials and young people looking for something completely different," Councilman Richard Loa said. "This market today has changed from what it was."
Both city officials were impressed with sustainability plans for the projects, including the potential for onsite recycled water treatment and an solar electricity microgrid at Ritter Ranch.
Although the presentations were strictly informational and no action was to be taken by the Council, Mayor Pro Tem Austin Bishop recused himself at the start to avoid any conflict of interest, as he owns a home in the Anaverde development.
City Attorney Matthew Ditzhazy informed Bishop he was not required to recuse himself, but he did so "out of an abundance of caution" and left the meeting.